"Economists at the Australian Treasury crunched the numbers and estimated the economic effects of a lower corporate tax rate … The bottom line is that a lower corporate tax rate leads to more economic output, with workers enjoying higher incomes."
International Liberty
Yesterday was "Australia Day," which I gather for Aussies is sort of like the 4th of July for Americans.
To belatedly celebrate for our friends Down Under, I suppose we could sing Waltzing Matilda.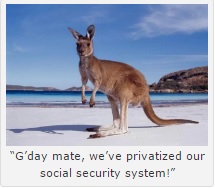 But since I'm a policy wonk with a special fondness for the nation, let's instead acknowledge Australia Day by citing some very interesting research
Economists at the Australian Treasury crunched the numbers and estimated the economic effects of a lower corporate tax rate. They had several levers in their model for how this change could be financed, including increases in other taxes.
Corporate income taxes are one of the most destructive ways for a government to generate revenue, so it's not surprising that the study concluded that a lower rate would be desirable under just about any circumstance.
But what caught my attention was the section that looked at the economic impact of a…
View original post 797 more words