"If you think all of this sounds too good to be true, you're right. At least for Donald Trump and other Americans. The United States has a very onerous worldwide tax system based on citizenship.

In other words, unlike folks in the rest of the world, Americans have to give up their passports in order to benefit from these attractive options. And the IRS insists that such people pay a Soviet-style exit tax on their way out the door."
International Liberty
The multi-faceted controversy over Donald Trump's taxes has been rejuvenated by a partial leak of his 2005 tax return.
Interestingly, it appears that Trump pays a lot of tax. At least for that one year. Which is contrary to what a lot of people have suspected – including me in the column I wrote on this topic last year for Time.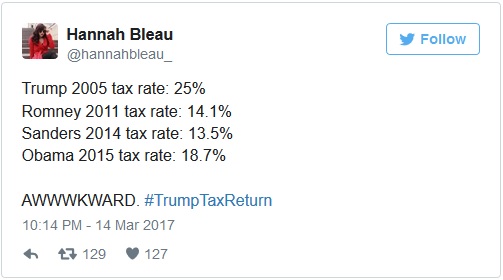 Some Trump supporters are even highlighting the fact that Trump's effective tax rate that year was higher than what's been paid by other political figures in more recent years.
But I'm not impressed. First, we have no idea what Trump's tax rate was in other years. So the people defending Trump on that basis may wind up with egg on their face if tax returns from other years ever get published.
Second, why is it a good thing that Trump paid so much tax? I realize I'm a…
View original post 661 more words